MM took a deep breath. He was nervous as hell. Judging by the debriefing, his  current mission looked more difficult than the last. This demon looked more powerful than the last one he fought against, and he lost the last one. He hardly got any sleep because the demon he fought against kept showing up in his nightmares. All day he trained to help calm his nerves, but it only made him more tense and more exhausted.  
As he walked he attempted to pump himself up with: but even that wasn't enough.
At this point it didn't matter, he rounded a corner and there was the cathedral.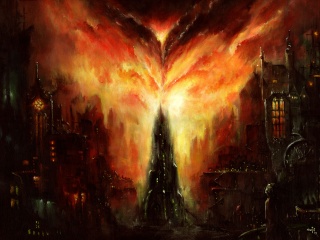 The sky was split by the demon completely engulfed in flames. It had broken free from the lockdown barrier and was attacking Hero Inc. soldiers while writing in pain.
MM noticed some looked relieved at MM's presence. One of them asked what they should do against such a creature.
"Does anything affect it?"
"We have no idea! The fire seemed to be working at first, but it's becoming more dangerous. Now, it almost looks like it's consuming the fire."
"Get them to put it out immediately. It's only going to spread to the rest of the city."
"Yes sir."
The least I can do is start getting its attention and see if my arrows are of any use.
MM ran towards the cathedral. He attached a grappling box designed by Heroes Inc to his belt and attached the tip of the cord from the box to the end of an arrow designed to pierce practically anything. He sent it at the cathedral and upon impact the metal shaft of the arrow split into four claw-like appendages and clasped what the arrow was already piercing for extra support.
MM pressed a button and was sent flying towards the cathedral's roof. He landed on the roof and unhooked the grapple-arrow. He then sent a greeting to the demon with his arrows as he noticed fire trucks arriving.